1.700 photos VW Fun Cup 25h Spa-Francorchamps 2019
We have over 1.700 photos of the 25h Hankook VW Fun Cup Spa-Francorchamps 2019 weekend.
A selection has been posted on our facebook page.
Click here to view the facebook album.
The full set of +1.700 photos has also been uploaded. Photos are tagged by car number so you can search to find your own car.
Click here for the full album link.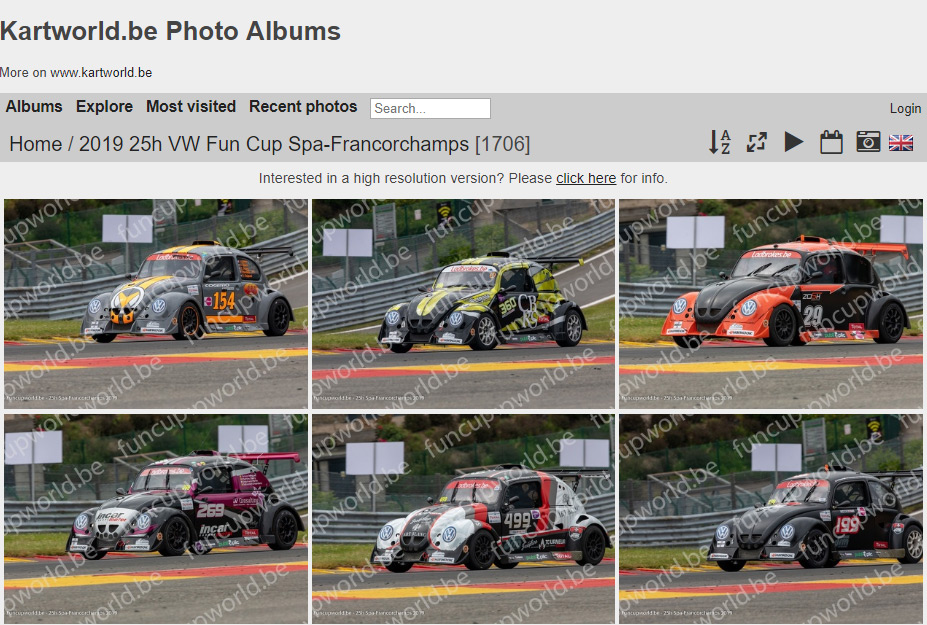 You can search on top by entering the following. FC#4 where you replace the number 4 with your own car number. Some examples:

Hit enter and the album will only show results for your car number.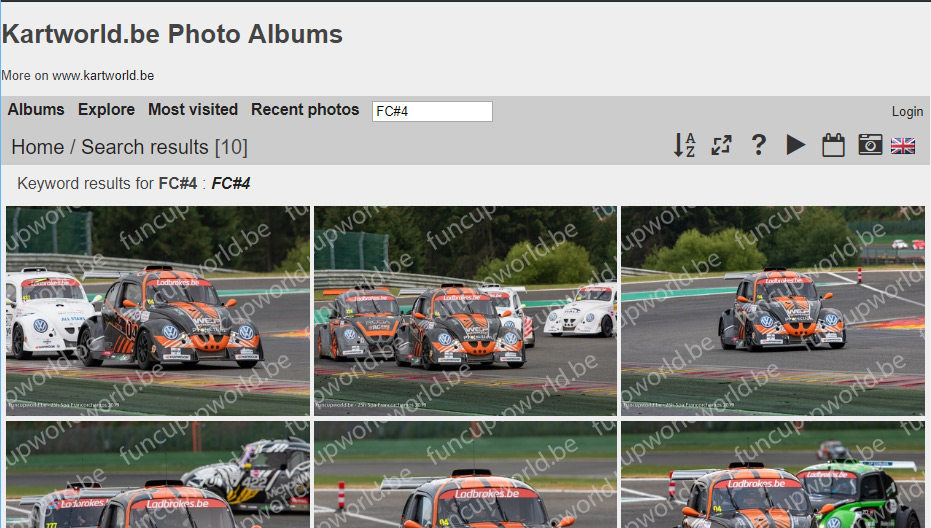 If you want to order a high resolution photo you can contact the photographer via photos@kartworld.be
Please mention the number of the photo(s) you want to order.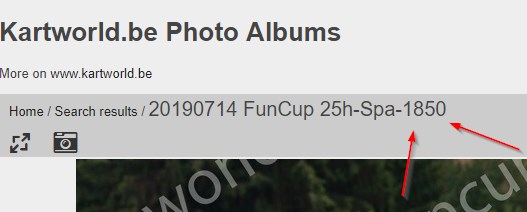 Prijzen Foto's / Liste de prix des photo's
Digitale foto zonder logo / Photo numérique sans logo:
1600×1200 pixels: 2,50 EURO
6720×4480 pixels: 5,00 EURO
Foto afgedrukt op groot formaat zonder logo, deze kan u dan inkaderen: Photo imprimée sur grand format (sans logo) pour encadrer:
30x45cm: 15 EURO voor de eerste, volgende/plusieurs 13 EURO/stuk.
40x60cm: 21 EURO voor de eerste, volgende/plusieurs 19 EURO/stuk.
50x75cm: 25 EURO voor de eerste, volgende/plusieurs 23 EURO/stuk.
Alle prijzen zijn inclusief 21% BTW, een factuur is mogelijk vanaf 20 EURO. Betaling kan via overschrijving of PayPal.
Tous les prix sont TVA 21% compris, facturation a partir de 20 euro. Paiement par PayPal ou virement bancaire.
Niet aangekochte foto's mag u op uw website gebruiken mits ons logo op de foto zichtbaar blijft!
Il est permis d'utiliser des photos non achetées sur votre site Web à deux conditions:
Le logo d' ELMORE.be doit etre bien visible
Insérez un lien cliquable vers notre site Web
Indien u foto's wenst van een bepaald event is het aangewezen ons vooraf te contacteren. Dan kunnen wij u volgen.